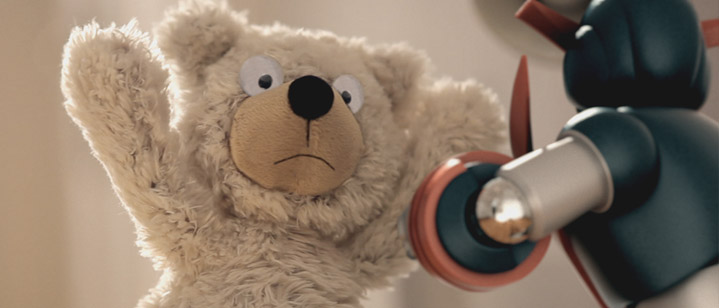 Direct2Brain is a Magic Factory where dreams turn into reality and where we have been creating cutting-edge digital effects since 1997. We have the right ideas and the right technical know how to pick up the clients needs and come up with proper digital solutions.
Our team is made by young and talented people with a background in both artistic and technical disciplines and we like to associate the way we approach a new challange to the way the brain works.
We have a right side that is more creative and that dreams about impossible scenarios but we also have a left side, that is much more reasonable, concrete and that uses a scientific approach in order to collect those impossible ideas and turn them into reality.
Our team is split between the office in the center of Rome and the one in the close city of  Latina. We have creatives always supported by  technical knowledge and this is the perfect match in order to achieve fast and quality results.
We've been exploring new technologies in the whole post production process for almost 20 years.
We have been working as supervisors on many different projects starting from the pre-production phase until the delivery of the final product . We have been working on set side by side with directors, directors of photography, production designers and art directors, because we know how foundamental is the interaction between all the professionalities involved in the process.
Quality is the key word in our daily work and this allowed us to be involved in the best succesfull commercials and music videos of the last decades. We had the chance to collaborate with international artists such as Planet Funk, Ligabue, Jovanotti, Coolio e Snoop Dogg,  Tiromancino, Subsonica and with great italian and international clients such as Bulgari, Fiat, Vodafone, Coca Cola, Lancia, Lete, Ray-Ban,Vodafone, Rai, Sky Cinema, Filmauro.
During the last years we have intensified the technical developments in order to explore all the possibilities and manage all the tecniques that allow us to integrate Live action and CGI.
Today  we are also involved in  360° shootings and new technologies in the field of VR and Augmented Reality.
Off course we can also work on  visual and interactive communication, visual effects, character animation, set extensions, virtual reality environments, multimedial applications and dynamic web sites. Our R&D Department is also dedicated to develop new custom and client based comunication strategies through applications for  iPhone and  iPad assisting the clients until the Apple Store promotion phase.
We have been colleting many prizes and aknowledgments both national and international that underline our professional approach, qualities and our abilities such as the Animago Prize for II° best European video, in the Category Professional/Compositing MusicVideo and many others like those from the Art Directors Italian Club for our illustrations or those from the Future Film Festival for many music videos.